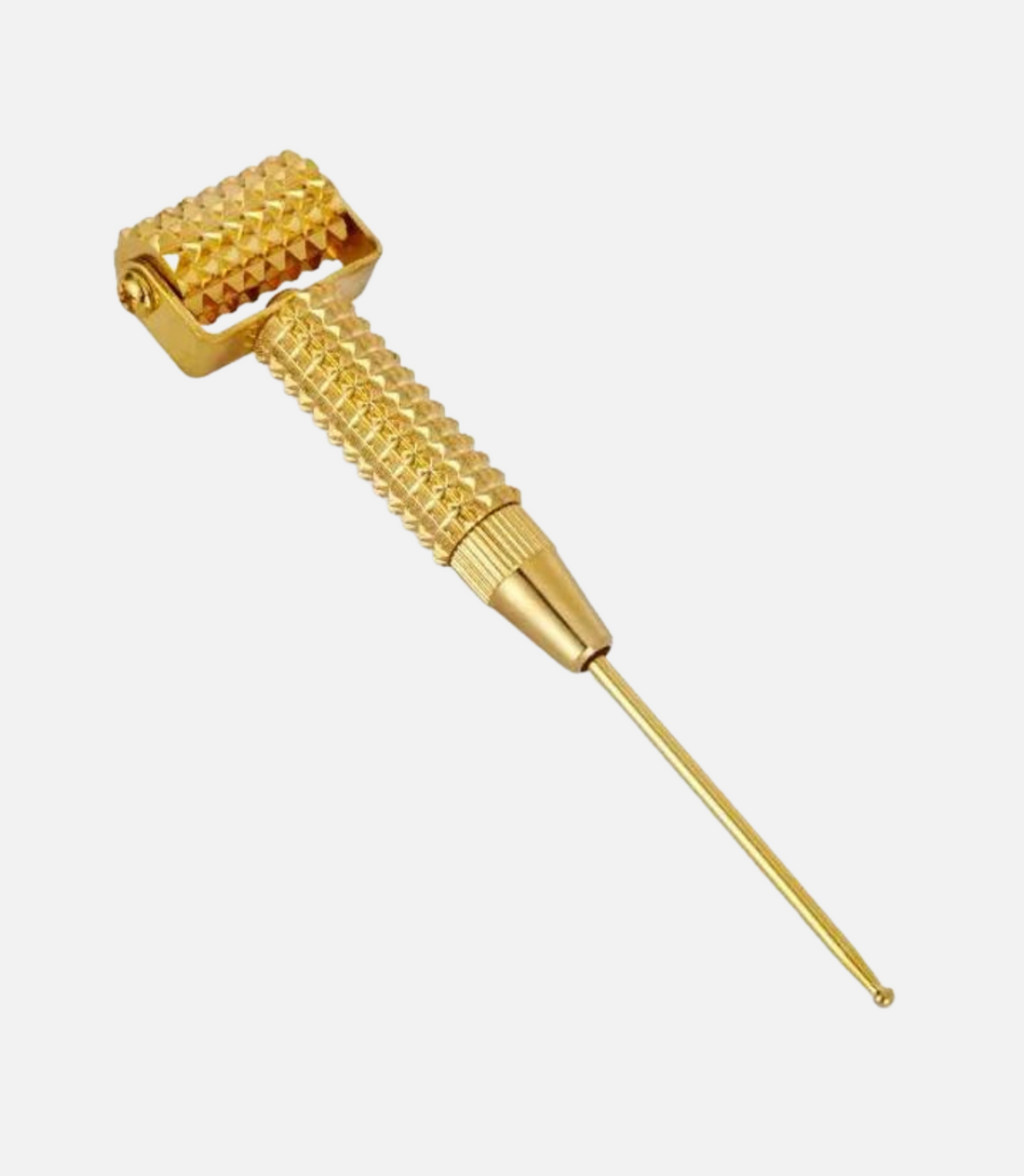 GOLD DERMA FACIAL ROLLER by Adeela Crown
The Gold Derma Roller by Adeela Crown is your very own wrinkle-busting "magic wand", that fits perfectly into your makeup or travel bag.

The luxurious gold-plated, "needle-free" and painless derma roller is an effective skin rejuvenation and massage tool. The roller has rounded metal ridges which gently work the contours of the skin to lift and sculpt.
Use on the face and neck for just a couple of minutes alongside your daily serum or face oil to boost skin's collagen production, activate blood circulation and increase product absorption.
Regular use of the roller will leave your skin feeling firm and glowing, as well as helping to reduce the appearance of fine lines and wrinkles. 
Pre-Order for Delivery in August 2022.
- Boosts collagen production.
- Increases product absorption.
- Reduces the appearance of fine lines and wrinkles.
- Reduces under-eye puffiness and drains toxins.
- Plumps lips.
- Activates blood circulation and boosts skin oxygenation.
STEP 1: First apply your favourite serum or regular moisturiser to add slip and glide to the skin and amplify results.

STEP 2: Start at either the neck or the forehead, using outwards and upward motions in a cross-hatch pattern (horizontal and vertical), doing 3-4 up and out strokes per area. After just a few strokes on your face, neck and décolletage, you will see that your skin is mildly flushed, brighter and your fine lines will appear less visible.

STEP 3: Finish off by rolling over your lips for a plumped pout.

Always keep your Gold Derma Roller dry and free of any residue from skincare or water to avoid metal oxidation.

Spray with disinfectant after each use.
You have the right to cancel your order within 14 working days from the date of purchase if you send us a notice of cancellation in writing and return the goods to us in their original, unopened and unused condition.
Sale and clearance items cannot be exchanged or refunded.
Unless an item is faulty, we cannot refund return postage costs.
Items lost in transit will not be treated as returned, and cannot be exchanged or refunded.
£6.50 on order value up to £100.
£5.00 on orders over £100.
£3.50 on orders over £300.
UK delivery within 5-7 working days. (Please note, during sale periods and promotional offers this may take up to 7 working days).
International shipping costs are calculated at checkout based on location and type of delivery option chosen. (Please allow 10-20 working days for delivery outside UK & EU).