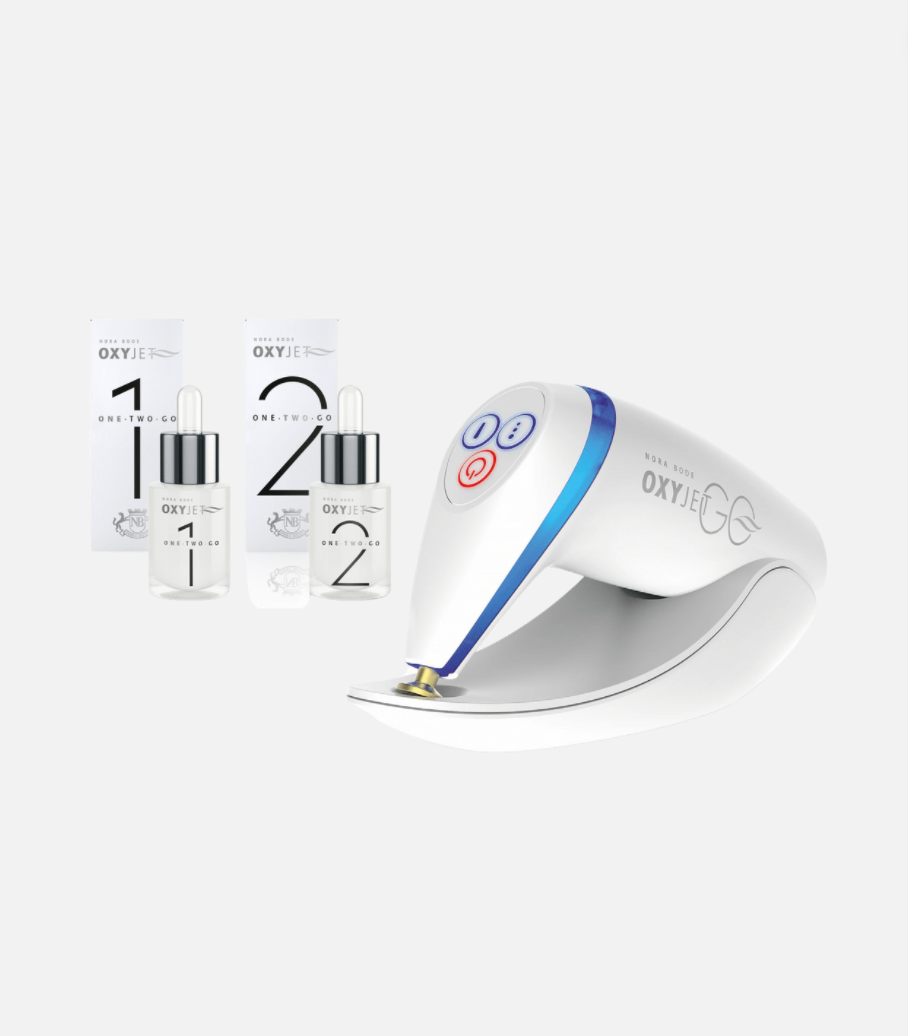 PULSE PRESSURE OXYGEN DEVICE by OXYjet GO
The award winning, spa-inspired portable oxygen device.
The OXYjet system is a high-tech treatment method, delivering needle-free oxygen pressured injections, developed and built in Germany by Nora Bode, the original inventors and patent holders of the method.
The OXYjet device kit comes with two special cosmetic formulations, which have been developed to use in tandem with the fixed pressure of the GO. These plant-based cosmetic serums penetrate the dermal layer of the skin, helping with wrinkles, pigment irregularities and loss of elasticity. Both serums contain molecular oxygen, are free from parabens, fragrances, alcohol and PEGs, and are essential for a successful treatment.
OXYjet Serum 1: Releases molecular oxygen and is the foundation of the treatment. Delivering microencapsulated oxygen, hyaluronic acid, plant extracts and moisturisers, the skin is visibly improved, and wrinkles diminished and smoothed.
OXYjet Serum 2: Aims to give your skin increased volume from the inside out. Using a unique plant ingredient approved in Ayurvedic Medicine over hundreds of years, it can enhance the plumpness of the skin. The eye area is also soothed, with puffiness and dark circles noticeably reduced.
With the purchase of the OXYjet GO device, you'll receive a complimentary 1-2-1 Virtual Tutorial with Adeela Crown to get in-depth, hands-on training with usage insights and tips.
To get the best results from your OXYjet GO treatment, a deposit of active ingredients should be built up in your skin.

In order to do this, it is recommended that you use the device 3 times a week for 4 weeks; applying both serums 1 and 2 to the face morning and night under your usual skincare.

The highly concentrated active ingredients and micro-encapsulated oxygen molecules will support the benefits of the device.

When you have finished the 4 week cycle, you should use the OXYjet GO once a week to maintain your new youthful, fresh and glowing appearance.
You have the right to cancel your order within 14 working days from the date of purchase if you send us a notice of cancellation in writing and return the goods to us in their original, unopened and unused condition.
Sale and clearance items cannot be exchanged or refunded.
Unless an item is faulty, we cannot refund return postage costs.
Items lost in transit will not be treated as returned, and cannot be exchanged or refunded.
£6.50 on order value up to £100.
£5.00 on orders over £100.
£3.50 on orders over £300.
UK delivery within 5-7 working days. (Please note, during sale periods and promotional offers this may take up to 7 working days).
International shipping costs are calculated at checkout based on location and type of delivery option chosen. (Please allow 10-20 working days for delivery outside UK & EU).